Europäische Finanzplätze im Wettbewerb
27. Symposium des Instituts für bankhistorische Forschung e.V. am 16. Juni 2004 im Hause der Deutschen Bundesbank, Hauptverwaltung Frankfurt am Main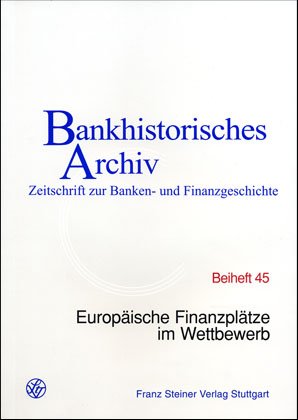 Europäische Finanzplätze im Wettbewerb
27. Symposium des Instituts für bankhistorische Forschung e.V. am 16. Juni 2004 im Hause der Deutschen Bundesbank, Hauptverwaltung Frankfurt am Main
available, deliverable in approx. 2-4 working days
Inhalt
Joachim v. Harbou: Begrüßung
Reinhard H. Schmidt/ Michael H. Grote: Was ist und was braucht ein "bedeutender Finanzplatz"?
Carl-Ludwig Holtfrerich: Der Finanzplatz Frankfurt im Wettbewerb mit Berlin und anderen Städten seit dem 19. Jahrhundert
Ranald C. Michie: The City of London as a European Financial Centre in the Twentieth Century
Diskussion
Andreas Resch: Wien – die wechselvolle Entwicklung eines Finanzplatzes in Zentraleuropa
Tobias Straumann: Der kleine Gigant: Der Aufstieg Zürichs zu einem internationalen Finanzplatz
Podiumsdiskussion: Hans D. Barbier (Moderation), Rolf-E. Breuer, Peter Coym, Hans-Helmut Kotz, Alois Rhiel, Reinhard H. Schmidt: Spezialisierung der Geschäfte, Zentralisierung der Aufsicht, Deregulierung des Arbeitsmarktes, Finanzinnovationen, Wirtschaftswachstum: Gibt es einen "Königsweg" für den Finanzplatz Frankfurt?
| | |
| --- | --- |
| Series | Bankhistorisches Archiv – Beihefte |
| Volume | 45 |
| ISBN | 978-3-515-08853-4 |
| Media type | Book - Paperback |
| Copyright year | 2006 |
| Length | 194 pages |
| Illustrations | 7 b/w figs., 26 b/w tables |
| Size | 17.0 x 24.0 cm |
| Language | German, English |